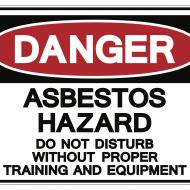 "More than half of all work-related fatalities are from occupational diseases, of which the majority are from exposure to asbestos. We cannot, and will not, tolerate employers endangering the lives of workers. There are profound consequences for this kind of egregious disregard for worker health and safety."
   – Al Johnson, Head of Prevention Services, WorkSafeBC
In November 2021, a contractor in B.C. was charged with offences under the Workers Compensation Act and the Occupational Health and Safety Regulation for knowingly exposing between 13 and 15 workers to asbestos-containing material (some of whom worked for a third-party contractor). At a hearing in BC Provincial Court in March 2022, the contractor pleaded guilty and was fined $20K, plus a victim surcharge. In addition, he was prohibited from owning or operating a waste transfer facility or any other business that involves the management, handling, or disposal of asbestos-containing material for three years. Crown counsel submitted that the contractor had committed the offences in order to avoid the cost and responsibility of cleaning up an asbestos-contaminated worksite. Click here to read what WorkSafeBC says about this case.
Although banned in Canada in 2018, asbestos is still very much a part of the built environment and is found in more than 3,000 common building materials. As noted on WorkSafeBC's website, these include vinyl and linoleum flooring, stucco, loose-blown insulation, roof felt shingles, gypsum board filling compound, incandescent light fixture backings, and deck under-sheeting, among others. For that reason, it is really important that before renovating or demolishing a home or any structure built before 1990, all asbestos-containing materials be first identified by a qualified asbestos testing company or surveyor and then be safely removed by a qualified asbestos abatement contractor. WorkSafeBC's asbestos resources and information can be found here.
In March 2022, the BC Government amended Part 2 (Occupational Health and Safety) of the Workers Compensation Act to require that asbestos abatement contractors be licensed to operate in British Columbia, and that workers and employers who perform this work must complete mandatory safety training and certification.